Home
Utah Bartender License

Approved Alcohol Server Education Program - Responsible Serving® of Alcohol Course
The
Responsible Serving® of Alcohol Course
is an approved alcohol server education program for Utah!

The certificate you earn by taking this course is also referred to as
alcohol server certification or
is commonly called a "bartender license") in Utah.
Sign up for the Responsible Serving
®
Course online and receive by mail your official PSCC wallet card upon completing the course for UT Responsible Serving® of Alcohol! (the card is included in the cost of the course; no extra charges)
Alcohol Server Certification Course
Sign up and take the online Alcohol Server Certification Course to earn the certificate commonly referred to as an "alcohol server certificate" or "Bartender License"
Get your bartender license / alcohol server certification for only $18!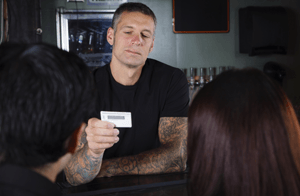 Alcohol Server Certification Course - State Bartender License
While the
Alcohol Server Certification Course
won't teach you how to bartend, the course is often required or recommended to ensure that alcohol sellers and servers understand the liquor laws in their state and serve alcohol responsibly.
The Alcohol Server Certification Course is state-specific, nationally recognized and has been specifically approved by state liquor authorities and alcohol control boards in most states!
Approved / Recommended
Not Approved
Common Names for the bartending license / Alcohol Server Certification:
Alcohol Server License
Bartender License
Bartender Card
Server's Permit
Alcohol Seller/Server Certificate
Responsible Vendor's Permit
NOTE: Some states have their own abbreviations and terms they use for the alcohol server certification commonly referred to as a bartender license that are unique to state.
Some of the more popular bartender license abbreviations are listed below: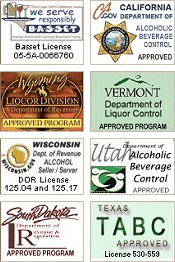 The Alcohol Server Certification Course we provide is approved to earn any of the aforementioned certifications! In some states, you will even receive a plastic wallet card in the mail when you finish taking the course. Check the map to see if the course is approved or recommended in your state.