Home
Testimonials from Bartending School Students

"I knew absolutely nothing about bartending, but your course was simple and straight-forward. I completed the entire course in two days, practiced making drinks for a few more, and was well-prepared for my first interview. The manager said I knew more than his last three bartenders combined!"
-R.J., Jacksonville, FL

"I wanted to attend a traditional school, but couldn't afford it. Your online course had the most to offer and included the tools I needed, so I enrolled. I want to thank you for helping me through, and for providing a reference for my employer. Thanks."
-J.L., Dallas

"I was a waiter and just wanted to learn the drinks so I could suggest them to customers. But our bartender quit unexpectedly, and I stepped right in and haven't looked back. The money is better and the job is more fun. Everybody seems to like the bartender."
-C.R., Portland, OR

"Your course was simple and easy to learn, but I was worried about interviewing for my first job. When I was asked about good customer service and how to prepare the most popular drinks, I aced the questions easily! I landed a job on my first try! Thanks for everything!"
-J.M., Franklin, MA

"I wanted a job as a party bartender, but did not have experience. I took the course, and the owner was impressed with my knowledge and let me start without any experience. This is the best way I've found to make extra cash. I've also made some business contacts. Thanks for putting together a comprehensive course."
-B.J., San Antonio, TX

"I'm a college student and needed a part-time job. Everyone said I'd make a great bartender, so I took your course and had no problems getting hired. While my friends were partying last Spring Break, I was busy raking in enough cash to pay for half a semester! Thanks!"
-B.R., Charlotte, NC

"I work in a small company and have a hard time meeting people. I've heard how much fun it is to bartend, but I have a great job with a promising future. This course allowed me to find a part time bartending job. I now bartend two nights a week, have lots of spending cash, and always seem to have a date to spend it on!"
-J.C., Raleigh, NC

"I went to bartending school several years ago but never landed a job. I took your course to refresh my memory and it worked out perfectly. Better organized and without the useless fluff I learned before. I'm bartending nights at a club now, and the tips are great!"
-C.S., Daytona Beach, FL

"Your practice kit contained everything I needed. I set up my practice bar just like you instructed, and soon I was free-pouring, layering, and mixing like a pro! I plan to make a career out of this!"
-D.L., Aloha, OR

"I honestly bought your course because of the great price compared to bartending schools, but I got my money's worth."
-C.R., El Paso, TX

"My biggest concern was finding a job. I knew my way around a bar, but didn't know the first thing about how to get hired. The schools here wanted a lot of money, so I chose you. You guys showed me exactly where to look, who to talk to, and what to say. You even called and verified my certificate! I owe you! Thanks."
-R.F., Allentown, PA

"I've always envied bartenders because they are the 'life of the party' and have no problems meeting people. I completed your course last year, and now bartend part-time AND have a separate business tending bar for private parties. This is a blast! Thanks Bartending Online!"
C.L., La Jolla, CA

"The course had great videos, and they were easy to replay to get all the details. This made the practice sessions easy and I caught on quickly. I like bartending better than waitressing because I don't have to fight my way through the crowds."
-M.H., Sacramento, CA

"I did not have time during the week to take the course, but with this course, I could perform the lessons on the weekend, and review the flash cards during the week. In three short weekends I finished the course. When I started my first job I was surprised to find out I knew more than the other bartenders that were already working."
-J.F., Tallahassee, FL


"
After my divorce, I needed a way to make ends meet. Bartending seemed a logical direction... There was no school in my area, and I couldn't have afforded it anyway. I signed up for your online course while I was working another job and never looked back. Thank you so much!" -S.B, Newtown Square, PA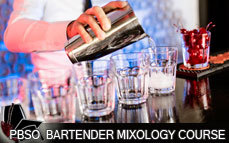 Bartender Mixology
Online Course
$
39.95

Course/Combo Packages

Alcohol Server Certification

Adv. Knowledge Courses

Manual & Recipe Guide
Register/Enroll Online
Click a section above to expand
Click "Add to Cart" to Enroll