Home
Length
40 hrs
self-paced online learning
enroll and start anytime
work through interactive lessons as quickly or slowly as you wish
Delivery Method
Online bartender course
Certification
Certificate from nationally recognized bartender school
PBSO Bartender Mixology Certificate
certificate may be printed instantly upon completion
certificates mailed upon request
certificates are individually numbered
certificate may be verified by employer
employers may contact us to verify certification
What You Receive
Online bartender training

Spiral-bound Bartender's Training Manual & Recipe Guide
Online course access
Interactive course lessons
text / multimedia
color illustrations
video demonstrations
flashcards
practice quizzes
final exam
Resources & Downloads
bartender manual e-book
printable flashcards
drink recipe e-book
identification log
incident log
party bartending contract template
Free addon: Liquor Knowledge Online Course
Resources to help you find a bartending job!

bartender resume template
bartending job interview tips
letter of recommendation

Unlimited student support Super Deluxe Practice Kit

(4) Practice Bottles
(1) Store 'n Pour
(1) Rubber Spill Mat
(1) 28oz Stainless Steel Shaker
(1) Glass Mixing Cup
(1) 4-Prong Strainer
(1) 11" Twisted Spoon
(1) Deluxe Ice Scoop
(1) 1/2oz x 1 oz Jigger
(1) Waiter's corkscrew
(6) Bottle Pourers
(1) Bucket glass
(1) Small rocks glass
(1) Whiskey glass
(1) Tall Collins glass
(1) Martini glass
Super Deluxe Practice Kit Included:
This kit contains standard tools used by every bar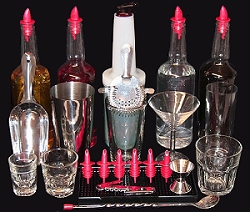 The jigger helps you add the correct amount of alcohol to the glass. The Boston shaker set helps you mix and strain drinks that do not mix naturally. The twisted spoon is essential for "layering" some drinks. The waiter's corkscrew and deluxe ice scoop are two frequently used tools in the bar. The clear practice bottles allow you to simulate alcohol using water and food coloring. The Store 'n Pour allows you to hold juice mix while the Rubber Spill Mat helps keep the bar clean. This kit also contains all the glasses needed to practice bartending, including special glasses for highball drinks, Martinis, and shots. Practice mixing drinks and pouring them into the correct glass!
---