Home
Bartender Training Manual & Recipe Guide
Professional Bartending School's training manual is your complete guide to bartending!
Quickly learn how to mix the hottest new drinks as well as the old classics
The book contains lessons, speed drills, and quizzes that go along with the course, and is loaded with over 2,000 commercial drink recipes! Compact and spiral-bound to lay flat on an open table. Keep it behind the bar for reference.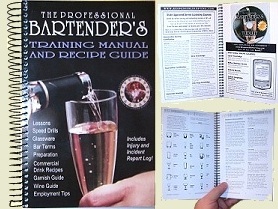 BARTENDER HANDBOOK DESCRIPTION:
The Professional Bartender's Training Manual and Recipe Guide provides all the tools and resources needed to learn bartending and provide excellent customer service. Used across the USA to train thousands of bartenders, the book contains 12 bartending lessons, a glassware guide, color garnish guide, speed drills and tests, thousands of commercial drink recipes, a thorough wine guide, and an incident/injury report log.
INCLUDED BARTENDER TOOLKIT: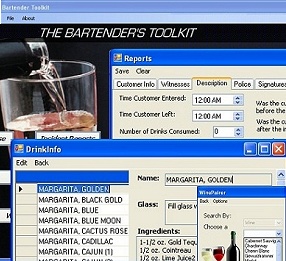 The book includes free online access to our Bartender Toolkit for your computer, tablet, or handheld device with Internet access. Use the Toolkit to look-up drink recipes, add or edit recipes and complete incident reports and bartending contracts. You can even access a complete wine guide and flavor guide, making the Bartender's Toolkit an invaluable software tool for bar owners, bartenders, restaurant managers and employees in the hospitality industry.