Home
Compare Bartending Schools
Choosing the right online bartending school is an important decision that can jumpstart your new career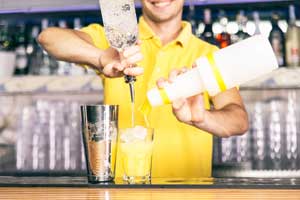 There are many options for
bartender training
, but vast differences in content, quality and customer service. Some turn out to be e-books and downloads rather than interactive courses. Others market training with no support to help you down the road when you need it.
WARNING: Consumer Alert!
(Click here to read a warning about imitation courses/certifications)
Tips / Advice
How to choose a bartending school
Make sure the school has a street address you can verify. Legitimate schools will list their address on their website. Here's our location: 101 N. Egan Ave. Madison, SD 57042

Check the school's credentials to assure it is state-licensed, bonded or registered to lawfully provide training.

Beware of very low-cost or highly-discounted online bartender courses that claim to offer accredited training and certification. These companies often:


are located outside of the U.S.
are accredited by unknown organizations
have never owned or operated a bartender school

Make sure the school has a contact number. Legitimate schools will list their phone number on their website. Talk to our experienced staff at (605) 427 2912.

Make sure the school provides the same support for online bartender training that they do for classroom training. We have trained online since 1998!
Search the Better Business Bureau online for complaint history and length of time in business. An established school will have a BBB rating. Our A+ Rating can be found by clicking the BBB logo on our homepage.

Professional Bartending School's Experienced Staff & Trainers
We have owned and operated bartending schools in Atlanta, Minneapolis, Phoenix, San Diego, Seattle, St. Louis, and Tucson areas beginning in 1987. In fact, many bartending schools use the materials that we developed years ago. In 1998 we became the first and only
online bartending school
in existence, and have trained tens of thousands of bartenders online since then. We have a dedicated professional staff who are there to provide in-person support online and by phone 6 days a week.
Professional Bartending School Accreditation
Our
bartender certification program
is state-approved, nationally recognized, and we are an accredited member of the Better Business Burea with an A+ Rating. To meet state requirements, online training must be structured and interactive. Interaction requires the student to answer questions, perform hands-on activities, and receive feedback from the course -- much more than reading a textbook or watching a video. As you take our course, you will interact with the lessons and know that you are learning.
Bartending Course Materials
We provide the most comprehensive
bartender training packages
available with both online access, text, videos, professionally printed
bartender training manual and recipe book
, complete
home bartender practice kits
(including bottles and glassware), and state-specific alcohol server certification (
bartender license
).
Quality Bartender Training
We provide you with industry-standard training, which is essential to professional bartending coast-to-coast. Our course and materials are updated to reflect the latest teaching methods and best practices for bartenders. We use a step-by-step teaching process with many interactive elements to accommodate different learning styles.
Live Phone Support
We have both online and telephone support (605) 427 2912, a benefit rarely available from
online bartending schools
. This helps you through the learning process and allows you to talk to a real support person when needed. We have a caring staff that is happy to talk to you at anytime before, during, or after you complete the course. Yes, you can talk to a real person! We have full-time staff members who are happy to assist you!
The course will teach you how to interview and where to look for the
best bartending jobs
. We will also will vouch for your training and provide letters of recommendation. We routinely refer our students to employers across the country. Although no school can guarantee job placement, we will make every effort to help you
find that first bartender job, or find a better bartender job
!
Money-Back Guarantee
We are the only
bartending school
you will find that stands behind their course unconditionally with a 30-day money-back guarantee. We can do this because we offer a great course, care about your progress, and want you to be satisfied. Most online schools offer very brief return periods, or in most cases no returns at all.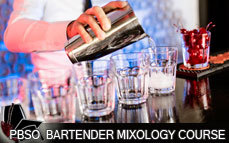 Bartender Mixology
Online Course
$
39.95

Course/Combo Packages

Alcohol Server Certification

Adv. Knowledge Courses

Manual & Recipe Guide
Register/Enroll Online
Click a section above to expand
Click "Add to Cart" to Enroll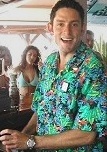 Your course was simple and easy to learn... When I was asked about good customer service and how to prepare the most popular drinks, I aced the questions easily! I landed a job on my first try! Thanks for everything!
-J.F., Boston