Home
Professional Bartending School can help you get a job as a bartender!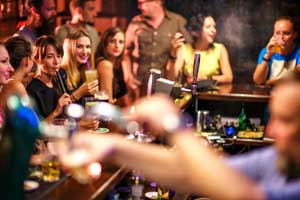 Completing the Bartender Mixology Certification is considered equivalent to a year of experience behind the bar!
Most bars don't like to hire someone who does not have experience. Some employers consider applicants who have not had experience working as a bartender but who have taken training and obtained certification to be the equivalent of having had a year of experience as a bartender!
Upon completion of the course, you are provided with a certificate to prove that you've taken training. You are also provided with a bartender resume template that can be customized with your own information and used for job interviews/applications.
We are also happy to provide you with a letter of recommendation and can verify your certification and training to any potential employer that contacts us to validate your certificate!
Where to Find Bartending Jobs
Some bars and restaurants will list bartending jobs in the help-wanted ads or on employment websites. However, many bars and restaurants do not advertise job openings and simply wait for applicants to approach them looking for a job. We give you employment resources and tips within the course that will help you find bars/restaurants that advertise they are hiring and approach bars that are not advertising for employment to schedule interviews with managers/bosses.
Bartender Resume Template / Resume Writing Tips

We show you exactly how to write a winning resume that highlights your strongest points, including your
Bartending School Certification
which tells employers that you are a motivated individual. We also provide a personalized, professional employment letter available immediately after passing the final exam! We are proud to vouch for our graduates!
Letter of Recommendation
We are happy to recommend graduates to employers! We also teach the first-time bartender exactly where to find work, and how to find the jobs that never get listed in the newspaper! Learn how to interview and where to look for the best jobs!
Get Started Today!
Sign up for the
online Bartender Mixology Course
to get
certified in bartending
or choose a
course combo package
and receive a practice kit with tools to practice at home also. The options for signing up are available on the
enrollment page
.
Sign up for bartender training/certification today!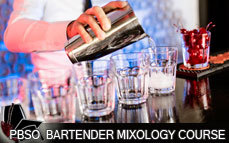 Bartender Mixology
Online Course
$
39.95

Course/Combo Packages

Alcohol Server Certification

Adv. Knowledge Courses

Manual & Recipe Guide
Register/Enroll Online
Click a section above to expand
Click "Add to Cart" to Enroll